---
Welcome Back Nascar Fans!
IT'S DAYTONA DAY!!!
The entries will be posted soon. Good Luck to everyone this season.
I have attached the Schedule, Driver's List, and Rules for everyone to see. This should be an interesting year with all the driver changes and rookies. Don't forget, the Driver's list is tentative and can change at any time. We are not responsible for any errors associated with name or number changes.
Be careful of your picks. If you pick a car number that doesn't race, you get 50 points. Make your picks carefully, if you pick a driver more than twice, you will get a penalty of 75 points. I need all sheets by February 16th. Be sure your sheets are legible and there is an email address or phone number so I can contact you. For payment, you can send the entry to me or you can use PayPal.
And don't forget to tell your friends. The more the merrier. If anyone has any questions or concerns, feel free to email me at
kelly.disano@yahoo.com
. We're looking forward to another great season of racing and another great year in our pool. So good luck to everyone, and let's go racing!!
​Website is Updated!
​ Boogity Boogity Boogity!!!!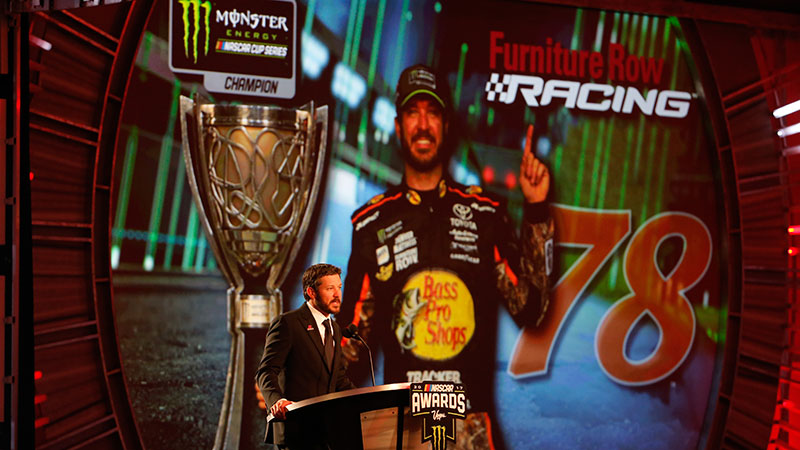 THE FRONTPAGE
RANK DRIVER Points Behind 1Martin Truex Jr. 5040 Leader2Kyle Busch 5035 -5
3Kevin Harvick 5033 -7
4Brad Keselowski 5030 -10
5Chase Elliott 2377 -2663
6Denny Hamlin 2353 -2687
7Matt Kenseth 2344 -2696
8Kyle Larson 2320 -2720
9Ryan Blaney 2305 -2735
10Jimmie Johnson 2260 -2780
11Austin Dillon 2224 -2816
12Jamie McMurray 2224 -2816
13Ricky Stenhouse Jr. 2222 -2818
14Kurt Busch 2217 -2823
15Kasey Kahne 2198 -2842
16Ryan Newman 2196 -2844


2017 ENTRIES

Total Points Rank Homestead Final Results Points Back Change1Rocky Fittizzi 389 0 02KC's Crushers 413 24 13J&M 416 27 1 4Popper 425 36 15Simon Sez 432 43 26No Clue Racing 433 44 -57Sic'Em On A Chicken 433 44 28Peanuts Way 435 46 -29Bob Bodak 437 48 210Pop-A-Top 438 49 -111Raptors 440 51 312Patrick Heffron 442 53 113Steeler Nation 446 57 -314Intimidator 2 446 57 -2

2018 Team Changes


Hendrick Motorsports
There are dramatic changes in the Cup Series for the powerhouse Hendrick group. While Jimmie Johnson returns to the No. 48, his teammates have new looks including Chase Elliott, who shifts from the No. 24 to the No. 9 made famous by his Hall of Fame father Bill. Alex Bowman takes the seat of the retiring Dale Earnhardt Jr. and last year's XFINITY Series champion, William Byron, replaced Kasey Kahne in what will now be the No. 24 entry.
Team Penske
Brad Keselowski and Joey Logano have a new teammate in Ryan Blaney, who will drive a third Ford for Roger Penske. The No. 12 will see Jeremy Bullins, who worked with Blaney at the Wood Brothers, serve as crew chief.
Stewart-Haas Racing
Danica Patrick vacates the No. 10 Ford and Aric Almirola slides behind the wheel from Richard Petty Motorsports. Johnny Klausmier will serve as crew chief as Billy Scott calls the shots for Kurt Busch in the No. 41, replacing veteran Tony Gibson - who will take another position inside the company.
Richard Petty Motorsports
Darrell Wallace Jr. gets his shot at a full-time Cup Series ride in the iconic No. 43. The organization has moved to the campus of Richard Childress Racing as part of a new alignment that will see RPM become part of the Chevrolet camp.
Wood Brothers Racing
Blaney's migration to Penske brings Paul Menard, who drove the No. 27 RCR entry in recent seasons, to the Wood Brothers. Veteran Greg Erwin will serve as crew chief.
Joe Gibbs Racing
Erik Jones is the new driver of JGR's No. 20 Toyota as Matt Kenseth's career with the team came to an end last season. The move by Jones to the Gibbs group from Furniture Row Racing means last year's championship-winning organization will be a one-car team in 2018.
Leavine Family Racing
Kasey Kahne looks to reboot his career with the Leavine team. He'll drive the No. 95 Chevrolet with former Hendrick Motorsports engineer Travis Mack serving as crew chief.
Front Row Motorsports
Last year's LRF driver, Michael McDowell, is now with Front Row and will team with holdover David Ragan in the two-car operation.