---
Three-Peat for Harvick
Kevin Harvick scored his third consecutive win of the season when he took the checkered flag in Sunday's TicketGuardian 500 at ISM Raceway.

Harvick came back from a severe penalty his team was handed by NASCAR for a rear window brace infraction at Las Vegas to score his 40th career Monster Energy NASCAR Cup Series win.

He is the first driver age 40 or older to win three consecutive races since Harry Gant won four in Sept. 1991 at age 51. Harvick is also the first driver to win three Cup races in a row since Joey Logano won three consecutive races in 2015. It was Harvick's ninth career Cup win at Phoenix and his sixth in the last 10 races at the Arizona track.
"I've been mad as all get-out because this team does a great job and this organization does a great job and we've got fast race cars and to take that away from those guys just really pissed me off last week," Harvick said.

Kyle Busch, Chase Elliott, Denny Hamlin and Martin Truex Jr. rounded out the top five.
Clint Bowyer, Aric Almirola, Daniel Suarez, Erik Jones and Kurt Busch completed the first ten finishers.
Kyle Busch and Kurt Busch won the day's first two stages.
The Monster Energy NASCAR Cup Series now heads to Auto Club Speedway next Sunday afternoon.

​Website is Updated!

​ Boogity Boogity Boogity!!!!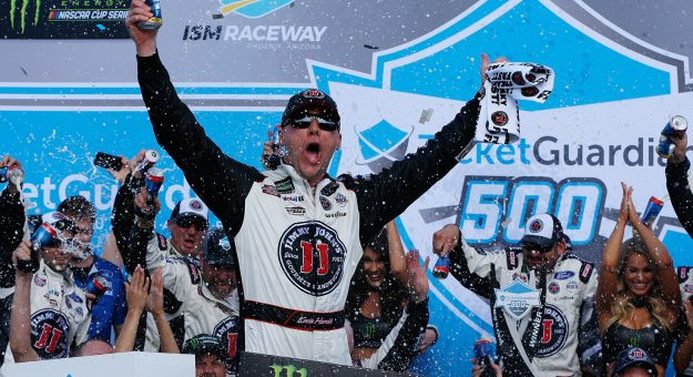 THE FRONTPAGE
RANK DRIVER Points Behind
1 Kevin Harvick 168 0
2 Kyle Busch 156 -12
3 Martin Truex Jr. 156 -12
4 Joey Logano 152 -16
5 Ryan Blaney 152 -16
6 Denny Hamlin 137 -31
7 Brad Keselowski 134 -34
8 Kyle Larson 131 -37
9 Clint Bowyer 125 -43
10 Aric Almirola 123 -45
2018 ENTRIES Total Points
Rank Phoenix RACE #4 Points Back
1 Intimidator 2 10 0
2 Best Bro's 11 1
3 Fitter 475 15 5
4 Bob Bodak 16 6
5 Taggin Asphalt 17 7
6 Lavendar Gooms 18 8
7 Cal Naughton Jr. 19 9
8 Mark Huber 20 10
9 WildWillie Racin 20 10
10 Rocky Fittizzi 23 13



Phoenix Rear View


How Harvick Won: When he got by Chase Elliott for what at the time was fourth place, that turned out to be the winning move for Harvick. Pit stops cycled around the hope of Ryan Newman and Brad Keselowski to somehow stretch their final fuel load to an upset victory evaporated and Harvick inherited the top spot when they eventually hit pit road. From there it was full steam ahead and on to a third straight win.
Who Had a Good Day: Busch finished second again to Harvick two weeks in a row…Elliott scored the first top five finish by a Hendrick Motorsports car in 2018 and Elliott has finished top 10 in four of his five starts at ISM…Hamlin has finished in the top-five in three of the four races in 2018…Truex Jr. has finished in the top five two straight races at ISM for the first time in his career.

Who Had a Bad Day: Paul Menard saw his solid start to the season come to an end when it appeared something broke on his Wood Brothers Racing Ford to send him spinning around to make hard contact with the wall…Michael McDowell suffered mechanical issues for a second straight week…Bubba Wallace had two pit stops with problems getting all five lug nuts fastened.

​