---
Truex Jr. Wins Race and Championship
Martin Truex Jr. held off Kyle Busch to win Sunday's Ford EcoBoost 400 at Homestead-Miami Speedway and the 2017 Monster Energy NASCAR Cup Series championship.

Truex Jr. scored his eighth win of the season to claim his first career Cup Series championship.

"We just never gave up all day long," Truex said. "We didn't have the fastest car, but we dug deep…made it happen. I wanted this ever since I was a kid. Just never give up, never give up."

He held off Kyle Busch by .681-seconds at the checkered flag. Truex Jr. led 78 laps, his car number on Sunday afternoon. The Furniture Row Racing driver won seven of the season's 11 races on 1.5-mile tracks, the most in series history.

Kyle Larson, Kevin Harvick and Chase Elliott rounded out the top five.

Joey Logano, Brad Keselowski, Matt Kenseth, Denny Hamlin and Ryan Newman rounded out the top 10.

As far as our pool goes, Congratulations to Rocky Fittizzi for a great year! Congrats also to our top finishers. Emails will be sent to the winners shortly. I hope everyone enjoyed the pool again this year and I look forward to seeing all of you back next year. New sheets will be available in early January for our 18th season. Check the website for updates. Don't forget to ask your friends to join. The more the merrier! I hope everyone has a safe holiday season. See you next year!!

​Website is Updated!

​ Let's Go Racing!!!!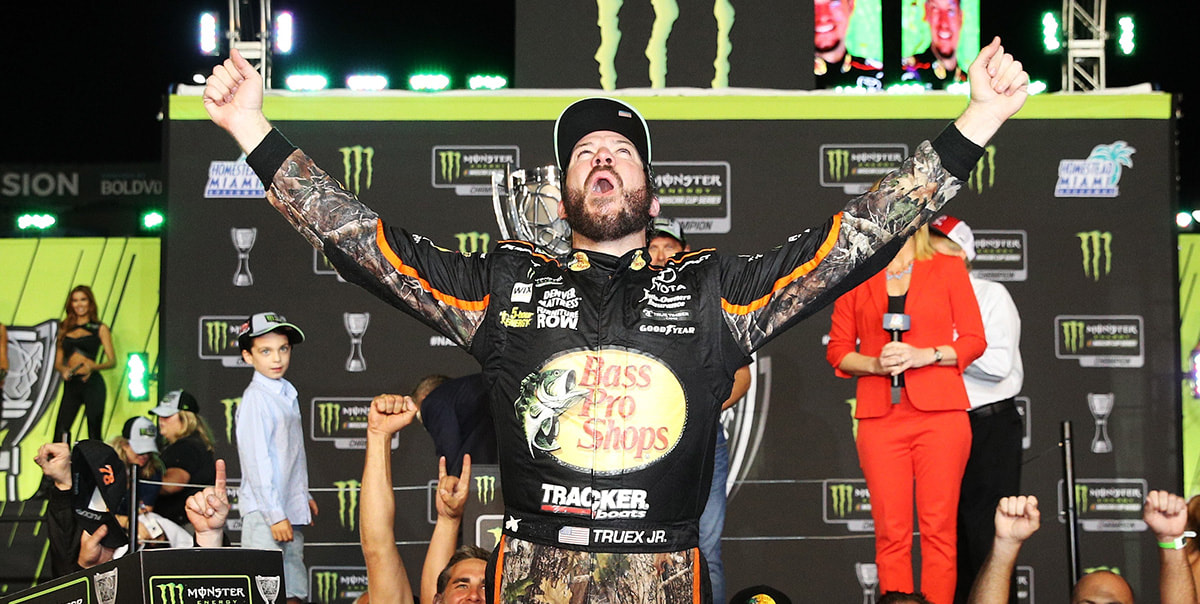 ---
THE FRONTPAGE
RANK DRIVER Points Behind 1Martin Truex Jr. 5040 Leader2Kyle Busch 5035 -5
3Kevin Harvick 5033 -7
4Brad Keselowski 5030 -10
5Chase Elliott 2377 -2663
6Denny Hamlin 2353 -2687
7Matt Kenseth 2344 -2696
8Kyle Larson 2320 -2720
9Ryan Blaney 2305 -2735
10Jimmie Johnson 2260 -2780
11Austin Dillon 2224 -2816
12Jamie McMurray 2224 -2816
13Ricky Stenhouse Jr. 2222 -2818
14Kurt Busch 2217 -2823
15Kasey Kahne 2198 -2842
16Ryan Newman 2196 -2844


2017 ENTRIES

Total Points Rank Homestead Final Results Points Back Change1Rocky Fittizzi 389 0 02KC's Crushers 413 24 13J&M 416 27 1 4Popper 425 36 15Simon Sez 432 43 26No Clue Racing 433 44 -57Sic'Em On A Chicken 433 44 28Peanuts Way 435 46 -29Bob Bodak 437 48 210Pop-A-Top 438 49 -111Raptors 440 51 312Patrick Heffron 442 53 113Steeler Nation 446 57 -314Intimidator 2 446 57 -2

Homestead Rear View


Sunday's Ford EcoBoost 400 came down to the drivers in the Championship 4 all racing for the win and the title.It never fails.
The season finale for the Monster Energy NASCAR Cup Series title seems to always come down to those in the title picture battling to the checkered flag. The cliché of the "cream always rises to the top" just fits when the Ford EcoBoost 400 rolls around on the schedule.
This years was no different with Martin Truex Jr. outrunning Kyle Busch to the win and title. The other two title contenders Kevin Harvick and Brad Keselowski were not far behind and near the front of the field most of the day.
Truex Jr. prevailed, a fitting ending to a season that ended up with eight trips to Victory Lane and a superior regular season that truly pushed him through the playoffs and to the Championship 4 main event. The veteran driver's personal challenges layered into the story of his incredible on track performance created an emotional and satisfying story.
The NASCAR season is grueling and long. But somehow after thousands and laps and miles over a schedule that starts in February and concludes in mid-November, the title isn't decided until the closing moments.
That happened again in 2017 and nobody should be surprised.