---
Back to Back Wins for Kyle Busch
Kyle Busch
scored his second consecutive win of the season when he took the checkered flag in the Food City 500 at Bristol Motor Speedway.
It was also his second straight win at Bristol and his seventh overall in the Monster Energy NASCAR Cup Series at the .533-mile track.
Busch nudged by Kyle Larson with six laps to go and was able to drive to his 45th career victory.
"That was a heck of a run right there with the 42 – chasing him down, being able to get to him, being able to get by him and then trying to hold him off with some lap traffic ahead of us," Busch said. "I can't say enough about this Skittles Toyota Camry."
It took two days to complete after rain suspended the race on Sunday but when it picked up again Monday afternoon Busch was able to prevail despite cold temperatures and periods of more wet weather. He led five times for 117 laps, including the final six.
Larson, Jimmie Johnson, Ricky Stenhouse Jr. and Alex Bowman rounded out the top five.
Aric Almirola, Kevin Harvick, Clint Bowyer, Joey Logano and Ryan Newman completed the first 10 finishers.
Brad Keselowski won Stage 1 and 2.
The Monster Energy NASCAR Cup Series now heads to Richmond Raceway next Satruday night.
​Website is Updated!
​ Boogity Boogity Boogity!!!!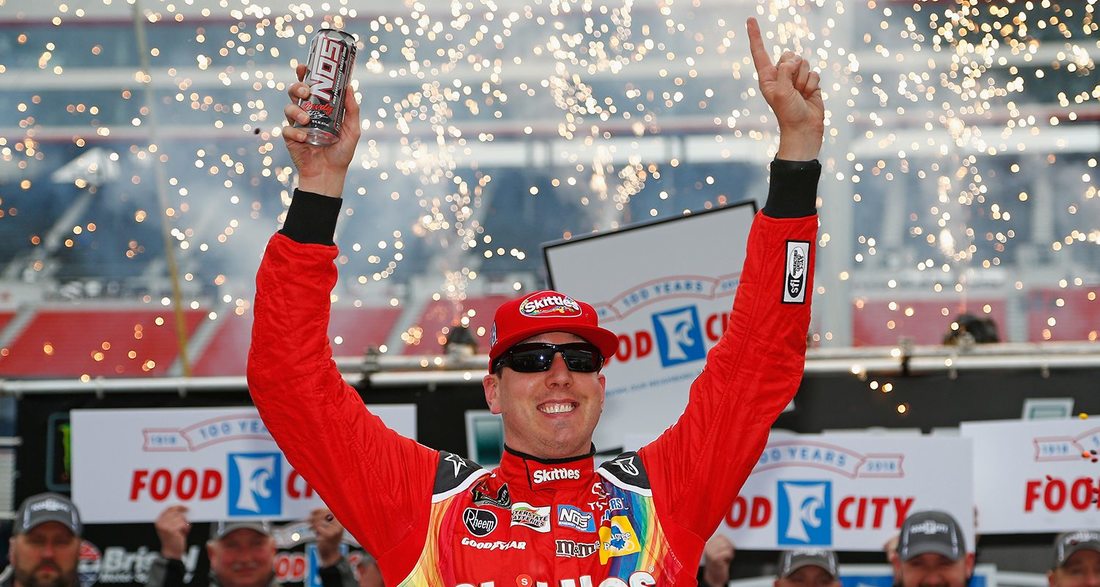 THE FRONTPAGE
RANK DRIVER Points Behind
1Kyle Busch 365 0
2Joey Logano 306 -59
3Kevin Harvick 290 -75
4Clint Bowyer 286 -79
5Brad Keselowski 271 -94
6Ryan Blaney 267 -98
7Martin Truex Jr. 257 -108
8Denny Hamlin 252 -113
9Kyle Larson 249 -116
10Kurt Busch 241 -124
11Aric Almirola 211 -154
12Erik Jones 209 -156
13Alex Bowman 190 -175
14Austin Dillon 183 -182
15Ryan Newman 181 -184
16Paul Menard 170 -195
2018 ENTRIES Total Points Change
Rank Bristol RACE #8 Points Back
1Cal Naughton Jr. 28 0 0
2Intimidator 2 32 4 1
3Best Bro's 35 7 -1
4Rocky Fittizzi 42 14 0
5Grandma's Winners 48 20 1
6Indy 50 22 2
7Heater Racing is Back!!! 50 22 2
8Smoke Still Rules 58 30 6
9Road Warrior 61 33 1
10M-E #2 64 36 3


Bristol Rear View
How Busch Won: He chased down Larson and made contact with his rear bumper six laps from the finish and drove into the top spot. From there while Larson furiously tried to chase him down, Busch kept his Toyota in front to score his second straight Cup win.

Who Had a Good Day: Larson spun on lap 324 as the leader when Newman made contact but came back to score his second runner up finish of 2018 and first top-five finish at Bristol in his ninth race…Johnson scored his first top-five finish since he finished third at Dover last October…Stenhouse Jr. had an eventful day when he spun on lap 61 from 2nd and had an uncontrolled tire penalty from ninth on lap 130 but got his first top-10 finish of 2018 and has finished top 10 in three of the last four races at Bristol.

Who Had a Bad Day: Defending series champion Martin Truex Jr. was caught up in an early accident on Sunday and after finishing last the previous race in Texas was credited with a 30th-place Bristol finish…Chase Elliott was also a victim of an early accident and forced to make laps just to finish 29th…Brad Keselowski was a front-runner until late in the race when he fell back in the pack and finally cut a tire to hit the wall and finished 23rd.